MKH Business Limited are proud to offer a bespoke Range of Advanced Preparation Booths, Spray Booths and Drying Ovens Systems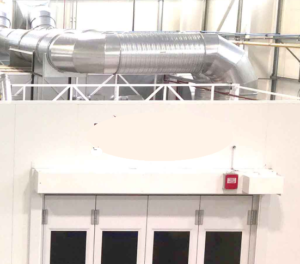 We can offer bespoke manufactured Preparation Booths, Spray Booths and Drying Ovens , from standard cost effective spray booths through to highly developed, high specification spray booths, to suit your requirements, taking in to account sizing to suit the application, from booths/ovens used for  batch production of small parts through to fully automated conveyor lines for high production volumes, or large complex structures such as complete aircraft.
Our partner for these booths can be provide highly specified  units. Every feature of the prepartion booths. spray booths and drying ovens will be engineered to be the best in its class to deliver the highest quality paint finish at the lowest cost per unit.
Types of Preparation Booths, Spray Booths and Drying Ovens available
The equipment that we offer include Preparation Booths, Dry Filter Spray Booths, Water Wash Spray booths, and Drying Ovens to meet the requirements of AMS2750 and controllable to within the requirements of NADCAP. These can be supplied with Dust Extraction Systems, LED Lighting and high quality Control Systems.
We look forward to receiving your enquiries for Preparation Booths, Spray Booths/Oven Systems.